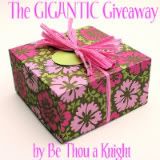 I found the blog
Be Thou a Knight
through
Kelly's Korner
and my heart went out to the creator of the blog Lianna, she and her husband have been trying to have a baby for 3 years now and their insurance does not cover all of the infertility procedures and medications. They have to come up with $10,000 to try IVF and become the parent that they know God means for them to be.
She is doing a huge giveaway and will put your name in a drawing to win a fabulous prize package if you donate to their very worthy cause. Please go visit her site and make a donation. Here is the paypal donation fund clicker:
Check out her site for some great giveaways and make sure to donate a little- even 5$ will help!
Also, please keep this family in your prayers-
The Bevins Family
- they have lost 2 children in the past several years and they brought thier baby girl, Tess, home only to have the birth mother change her mind the same day that they got her home. This family is experiencing tremendous loss, and I know that they covet our prayers during this time.