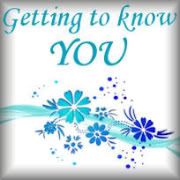 If you have a blog and would like to participate in this- I thought it sounded like a great idea!
It's more fun to write when somebody is reading, right? Sometimes we stumble upon a blog and we say, "Where have you been all of my blogging life!" I do that sometimes too. So, here's what I'd like to do so that you can get some new visitors to check you out and you and the rest of us can find some new blogging friends that we will decide we can't live without.
Click on this button to link you to the blog "Dancing Barefoot" to read the directions: This looks like a great way to get to know other bloggers.