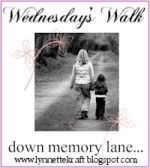 Well... it's Wednesday, and time for a walk down memory lane!
Click on the button above to see where the idea originated...
I have to take a little time today to remember the best day of my life...well...so far!
You guessed it! It is the day that I married the man of my dreams, and to take this walk back even farther- I will take you back to the day in 1986 when I asked God to bring me to this amazing man. I was only 7 years old...YES...7 years old. My mom told me about a friend of hers that wrote a prayer in the back of her Bible when she was young describing the man that she wanted God to bring into her life one day, and ultimately, God did that very thing.
I remember sitting down with my Bible and VERY seriously thinking about the kind of life that I wanted to live and the kind of man that I wanted to raise my children one day. I prayed for a man that would put me 2nd only to God in his life and would be the spiritual leader for our family. I prayed for a husband that was a hard worker (man...I didn't know how hard of a worker I would get...Cal is the most dedicated person that I know). I prayed for someone that would love his children with all of his heart and be a loving disciplinarian (I know that he will be). I even through in a little prayer that maybe he could even be good looking haha (and YES- God granted me my wish). I prayed for a husband that had a sensitive spirit and would listen to the Lord to guide his life. Obviously, I listened to my parents alot...because at that point in my life...boys were YUCKY! haha! I just have to say THANK YOU to God for all that He did give me... He gave me everything that I prayed for and even MORE! THANK YOU- THANK YOU!
Here is my prince charming!
June 17, 2006
What a wonderful day!