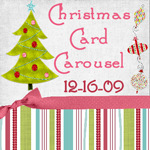 I am participating in "Walk with me by Faith's" Christmas Card Carousel.
So, here is The Laney's Christmas card this year~ Don't you just LOVE Christmas cards?!?
My sweet sorority sister, Natalie, from Sweet Lemon Designs, made these for us~ aren't they precious! They are ever cuter in person! They finally went in the mail today. This week has been crazy. I had a small procedure done on Monday and have been on the couch for most of the week. I can't wait to get back to school tomorrow and see all of the sweet smiling faces!
Let me know if you participated in the Christmas card carousel! I want to hop over to your blog and see them!